Refinery
The Ceylon Petroleum Corporation was established by Act No. 28 of 1961 and entered import, distribution and marketing of petroleum products throughout the island. Existing Oil Refinery at Sapugaskanda was commissioned in August 1969 to process 38000 BPSD( 5200 mt/d ) of Iranian light crude oil.
Even though the capacity of crude distiller was 5200 mt/d, unit was capable of processing 5800 mt/d of crude oil. Crude oils similar to Iranian light such as Upper Zakum , Arabian light were able to process in the plant meeting required specifications.
LPG production was started in 1971 and Naphtha Merox unit was modified to process LPG. SBPS production was also started in 1971 using existing facilities. Crude Distiller unit was de-bottlenecked to increase the refining capacity to 50000 BPSD( 6900 mt/d ).
A new Kerosene Merox unit was installed and commissioned in 1981 to process Jet A1 and high energy consuming Kerosene unifiner was not operated thereafter. Crude distiller unit was again revamped to process far Eastern crudes such as Miri light and Naphtha unifiner capacity was increased to 1100 mt/d in 1992. Platformer unit was revamped in 1999 to increase its capacity to 650 mt/d to meet increasing gasoline demand and to phase out Lead in gasoline. Existing Kerosene unifiner was revamped to process diesel and the existing gas oil unifiner was rehabilitated in 2003 to meet the Sulphur specification of 0.3 % wt in Diesel.
In addition, small and medium scale energy conservation projects were implemented to make the refinery operation energy efficient. Refinery consists of Utilities section which supplies electricity, water, steam, instrument air etc., required for plant operation. In addition, 65 Nos. of tanks are located within the refinery for crude oil, finished and intermediate products and four crude oil tanks at Orugodawata tank farm.
Refining Process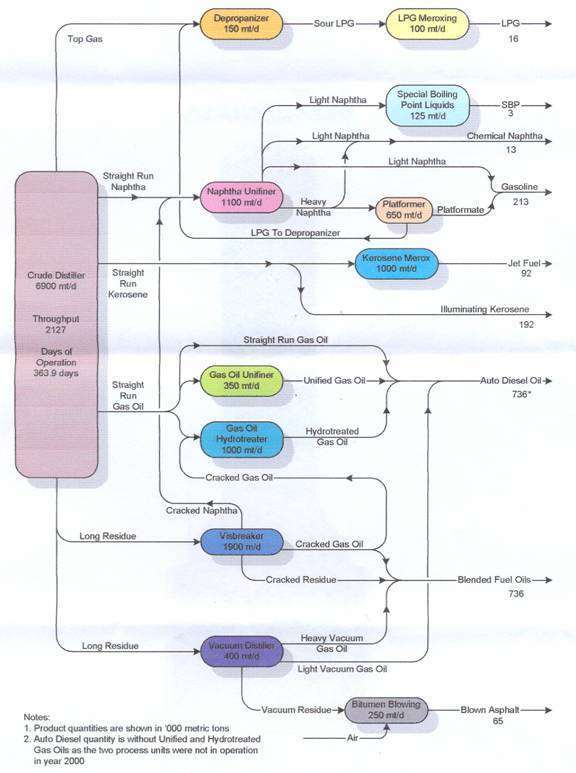 Process Units
| | |
| --- | --- |
| Unit | Capacity(MT/Stream day) |
| Crude Distiller | 5200 |
| Naphtha Unifiner | 940 |
| Platformer | 285 |
| Gas oil Unifiner | 450 |
| Visbreaker | 2000 |
| Merox unit | 70 |
| Vacuum Unit | 950 |
| Bitumen Blowing Unit | 350 |